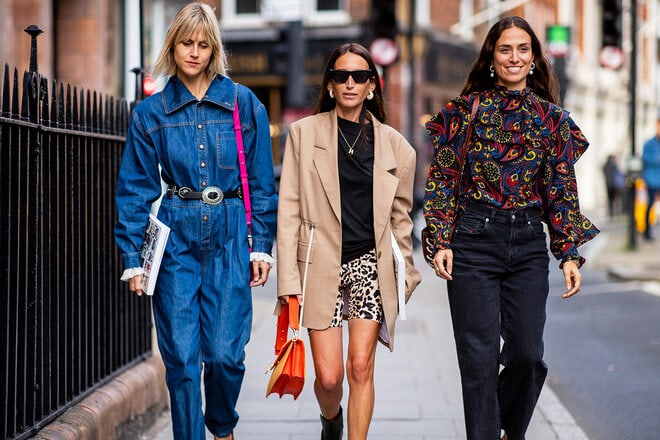 Style on the streets is a fashion form that evolved around the youth in every culture. It has helped people embrace the individual ability to express the style and self through adorning the pulsating urban rhythm. 
Surfing on the waves of the ever-changing global trend of chic street fashionistas, this modern epoch of fashion has developed its own charm in the everyday sartorial choices for a large majority of the youngsters and those who are young at heart.
City streets have lately become one of the most popular spaces for fashion inspiration besides social media. It has gained a lot of traction since the model-off-duty looks started to trend in magazines like Vogue and Elle to bring attention to the common pieces that can be styled with sophistication.
From classic combinations of leather trousers with chunky turtlenecks to the unorthodox combination of suave colors, there is so much we can learn from street style looks. Here is a list of a few street styles that can be recreated with a twist this fall and winter.
But before we forage further into the world of street styles, let's have a basic overview of what it means!
What is street style?
Technically, street style is very self-explanatory. It is the branch of fashion that has been inspired by runways and major designers being replicated on the urban streets. Evolving from the youth cultures of the last few decades, this umbrella-term has become a nurturing home for multiple styles of dressing that are equally unique and flattering.
It has now attained recognition from major designers and has grass-rooted its influence in the circle of elite designers. From the punk fitted jeans to the hippy sundresses, each element has now become a staple of high-end collections that is essentially focused on toning down the elitism through subtlety.
The rise in street fashion is primarily responsible for promoting the trend of casual staples and statement pieces to form fashion-forward outfits from a capsule wardrobe.
The trends of Fall / Winter 2020
On close inspection of the 2020 runways, it was noted that neutrals are still a hot trend in the fall/winter collections. But this year, the designers have introduced some fun twists to spin fresh ensembles for the dreary year.
Collars have gained ruffles, pointy tips, and doilies, while white dresses have also made an enormous comeback. Thankfully, the ridiculously expensive micro bags have been granted their leave, and the larger bags have hath the fury of a woman scorned. These details will help you plan your wardrobe in hindsight of the current trends so that you don't end up wallowing in a fashionista's fear of missing out.
So without much ado, let's jump right into the outfit inspirations!
Brightest splashes of color
The biggest trend for fall on the streets this year has been the extravagance of color. Single colors have been used by designers to create loud and popping suits that make a statement. Whether it is a red leather jacket with a red leather trouser or an oversized yellow blazer with wide pants, everything reflects the spectrum of rainbow colors on the street.
PU leather coats that touch the shins
The PU coats that go below the knees have also been popping up on every other fashion publication this year. This street style has been in fashion for a few years now, and it has still reigned supreme. However, the twist that is being observed is the contrast of accessories in the form of opposite colors and silhouettes. Boots in vibrant colors or angelic white scarves instead of the traditional plaid patterns have been particularly easy to adorn this year.
Au natural monochromes
The naturally olive color palette for fall can be mimed this year with an interesting spin. You can go ahead and break the monochrome with something that is so out of the blue that it looks perfect. You can casually pair a canary yellow maxi coat with an all-beige or cream outfit to awaken the Parisian Emily that hums beneath your subconscious.
Eccentric layers with dresses
Similarly, if you like the hobo-chic dresses for fall that have been in the closet for half a decade, you can bring them out and pair them with something very plain jane. You can get an ethnic print or an exuberant design in loose dresses and wear them with something as casual as a white long coat. Let the eccentric dress peak out from beneath the buttons and lower hemline of the top layer to enjoy the new twist on common street fashion trends.
Partially white for wisdom
Do you remember the knitted white dresses that were the rage for Coachella a few years ago?
You can get one of those and wear them this fall as a strong fashion statement. Wear a monochrome shirt and trouser beneath the dress and let it peak out from the loose knitting. Wear a small straw hat along with the outfit, and you are all good to go!
Wide-legged pants are not just for winters
You can use wide-legged pants as a creative element too. Pick any thick material in wide-legged pants and pair them with a short top. You can play the high and low game of making sure that one piece fits like a glove while the other sways with the wind. Try to can a pair in different hues of the same color to boost your style quotient.
Final Thoughts
There is so much that can be done with street styles that you would essentially need a decade and more to complete the collection of new outfits that can be assembled from the same set of clothes.
No matter what you create for yourself, remember to add a mask to your ensemble that matches like you swiped it from Tinder. It may seem like a face mask would dull the sparkle of your street fashion but remember it is not just an accessory but a precaution.