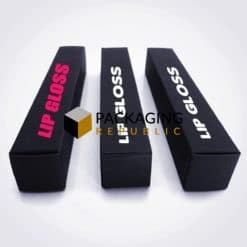 Do you have an organic clear lip gloss range that you want the potential shoppers to try and like? Entrancing and compelling custom packaging can make your products hard to ignore. Striking boxes displaying the items would capture the attention of the onlookers.
You can promote the benefits like moisturizing properties and chemical free formulation through packaging. This will expedite the purchase process and customers wouldn't have to think twice or more. Utilize the boxes for establishing credibility of your brand; you can build perception as a cruelty-free makeup manufacturing company.
Packaging for every day cosmetics has to be handy and informative. You need to provide info like for how many hours the gloss stays on the lips, what is the main ingredient used in it and if it can be applied on lipstick or colored lip gloss. The boxes should make it easier for the consumers to use and store the item.
Have the lip gloss box designed and printed by a packaging manufacturer that is familiar with the latest printing techniques and trends. Share details about the product you want to package and market and ask for boxes that can interest your target audience.
A printing expert with professional attitude would understand your business dynamics to provide you packaging solutions that work your way for branding and selling.
We have some tips on printing engaging boxes for featuring your clear glosses!
Use a Pleasing Packaging Artwork
Design of the clear gloss boxes should be catchy, tell the graphics team to use images and text that complement the cosmetic items. If you have three-four products in the collection, get varying artworks made with slight changes in the color scheme and content. Have your brand's logo and tagline printed with a font style that makes these details stand out.
Sustainable Lip Gloss Packaging Box
Packaging for cosmetics should be strong to protect the products from getting runny or dried up due to moisture, heat or other tampering factors. Compare the specs of different stocks like cardboard, kraft paper and corrugated material before making a preference for the gloss boxes. You can ask the printer to guide you in detail about the techniques used for commonly used materials; this would make the decision even easier for you.
Packaging that helps you Connect with Customers
Mention your active social media profile links on the boxes so that shoppers can get latest updates about flash sales and other offers. You can use Facebook and other channels for increasing consumer engagement by holding contests, polls and sending mystery boxes to top fans. This would aid you with building a strong brand community.
Lip gloss packaging box should have net weight of the items, manufacturing date and details. Change the packaging design after every 6 months to add newness to your offers. You can give away free gloss holders on purchase of bundled items; this would encourage the buyers to shop more.
If your organic makeup brand is staunchly a part of an environmental cause, endorse it through the boxes. Tuck-end is the commonly used packaging style for cosmetics but you can consider other options after evaluating their utility.
Make your custom boxes entrancing for the potential buyers by having them designed and printed by Packaging Republic. Message or call the sales team for discussing your requirements!